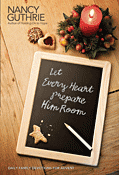 As I grow older I'm more and more aware of the size of books and their print! Oops! I'm getting ahead of myself...
I was excited to receive the new Christmas devotional that Tyndale published this year by Nancy Guthrie titled
Let Every Heart Prepare Him Room
. I haven't read a Christmas devotional with my kids before so I thought this would be a good year to start. I didn't glance at the size of this book before I requested it. It happens to be the size of a 4 x 6 picture (almost to a tee). It's a little hardback book with tiny print and tiny lines to write on.
The devotionals are fine in and of themselves. Nothing especially stood out to me. Each devotional day had a story/thought and two or three verses. She didn't reference passages to be read, but rather single verses. Scattered throughout the book there are also reproductions of the music for several Christmas hymns and stories about them. I enjoyed these stories about the hymns. Over the past year, I've come more and more to cherish hymns and the stories behind them.
The size of this book is a great obstacle to me. On one hand, it's very easy to store! But, it would also be easy to lose. It would be difficult for anyone to read if they don't have 20/20 vision. It makes me sad that publishers are choosing to publish such small books instead of charging a little more for a larger paberback copy. I definitely would pay the extra. I can write with very tiny print, but the lines provided in the book for writing down reflections aren't even big enough for me.
I'm so sorry to give a book--a Christmas book, of all books, a negative review. The content of the book is solid and appropriate for a family with children ages 6-12 years old. If I were looking for a Christmas devotional to read with my family, I honestly wouldn't choose this book. I would keep searching for another devotional that would be easier to read and hold while you're sitting on the couch with your family.
Please note that I received a complimentary copy of this book for review from Tyndale Publishing.