There are many books that come through our house. Every once in a while, I find one that I think of as a "Must Read". If anyone chose to ask me (which I would feel very humbled by), what books I'd recommend, these are the books that would jump to my mind. I just finished the first one for this year. There are tears in my eyes and I simply want to cry. But, I'll get to that in a moment.
"Were you really so gullible?...Were you and your pro-choice coworkers really driven by compassion and tenderness, by motives of truly helping women...
I often find that people don't like my answers.
That is understandable. My story is not neat and tidy, and it doesn't come wrapped in easy answers. Oh, how we love to vilify our opponents--from both sides. How easy to assume that those on "our" side are right and wise and good; how those on "their" side are treacherous and foolish and deceptive. I have found right and good and wisdom on both sides. I have found foolishness and treachery and deception on both sides as well. I have experienced how good intentions can be warped into poor choices no matter what the side."
p.x from Unplanned by Abby Johnson with Cindy Lambert
My husband and I had an hour and a half discussion the other night about another book. One of his major concerns was how the authors of that book speak of unbelievers--people who don't believe in Jesus. Several of the comments in that book sounded disrespectful and looked down on them. It also painted a stark picture of "two sides".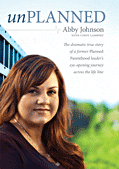 Abby Johnson begins in the introduction of her book by addressing my husband's concern. From the introduction, I knew that this was going to be an easy to read (intellectually, though not always emotionally), hopeful and encouraging book. I would liken it to watching a drama movie. You know that there's going to be suffering and a hard conflict in the middle of the story and that it's not always going to be easy to watch, but that there will be a good ending. That's the way it is with this story. I picked it up yesterday morning and just finished it twenty minutes ago. In the midst of the past day, I homeschooled, cooked three meals, took my children to Awanas, had a coffee date with my husband, and went to bed at 10 p.m. Can you tell how much I liked this book since I just finished it?
Abby Johnson is the former director of the Planned Parenthood Clinic in Bryan, Texas. She had been with Planned Parenthood for eight years. One Saturday in 2009, she was asked to assist in an ultrasound guided abortion. That day she walked out vowing to find another job. After two weeks, she left. That two weeks was not a period of two weeks notice. Rather, it was the timeline she had given herself for getting her ducks in a row to leave.
She describes what she saw in that ultrasound and my eyes cannot fight the tears even as I think about it now. It isn't graphic, but it explains the truth--what an abortion really is. But, this story is not just a story of abortion. It is a story of "Right reasons, wrong choices." (p.10 from Unplanned) It is a story of compassion and seeing the other side, not as enemies, but as misled, decieved, and lost. It is a story of God working in Abby's life just as he worked in Joseph's life.
Genesis 50:20 NIV
You intended to harm me, but God intended it for good to accomplish what is now being done, the saving of many lives.
Literally.
One thing I loved most about the book was her story of how she can now see God working in all things in her life. He has brought her to the place she is now. He was watching over her even as she made wrong choices. He is working in all things.
Jesus calls us to love our enemies.
Luke 6:35 NIV
But love your enemies, do good to them, and lend to them without expecting to get anything back.
Abby's story shares with us what it really looks like to do just that. The people at Coalition for Life respected her, prayed for her, loved her... And they didn't give up.
Her story is also very human in that it acknowledges the imperfections of people. She is not self righteous and she does not cover up the reasoning that led her to make the decisions she did. She sees her own culpability, but also fully lives in God's grace now. Many people turned away from her on both sides as she walked through these eight years. Many others did not.
Let us be like those who did not. Let us love people those who are easy to love and those who are not well. Let us love those who we agree with and those who we disagree with well.
Please note that I received a complimentary copy of this review from Tyndale Publishing for review.