Over the past year, I've read several memoirs.
Choosing To See
by Mary Beth Chapman and
Unplanned
by Abby Johnson were wonderful stories that deeply encouraged me. In both, I clearly heard in the author's voices their desire to love the Lord and serve Him. They both also acknowledged their weaknesses and faults. They took responsibility for their decisions. Reading these books has grown a desire in me to read more like them. When I recently read The Dressmaker of Khair Khana by Ms. Tsemach Lemmon, I was also encouraged by the story and enjoyed hearing how Kamila Sadiqi supported, loved, and cared for the people in her life--her story wasn't just about her.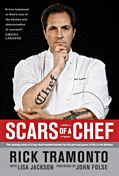 I picked up
Scars of a Chef
by Rick Tramonto with Lisa Jackson with the thought of looking for a story that would be encouraging. The cover makes the Rick Tramonto look like a very rough and tumble guy. But, that is what publicity and marketing does--its goal is to make you curious about the book and make you want to read it. Unfortunately, it can backfire if the book doesn't match the cover--which is true in this case. This is the story of a man. It is not a story primarily about God and what He has done in this man's life or about the people in Rick's life. Thoughout the book, you hear Rick's voice. I felt as if I could be talking to him. But, the book is all about what He, Rick Tramonto, did and how He, Rick Tramonto, succeeded.
I am thankful that Rick and his wife have come to know the Lord. I am glad for them. I am glad that Rick's father came to know the Lord two weeks before his death.
But, this book contains the details of Rick's life and achievements. Very detailed details. If you love food and you are curious about the world which chefs live in, then you may find the bulk of this book interesting. It began to feel very repetitious to me after the first third of the book.
This isn't a book I would recommend. It isn't a bad book, per se. But, I didn't find what I expected when I chose to read this book. I was looking for a book that would give me insight into how someone who grew up in a very rough family found his way out. I was hoping that there would be an awareness on the a part of the author of how God helped him do that. I wasn't expecting the story of a man who indulged in drugs and alcohol for years. The inside pictures of Rick Tramonto paint a very different picture than the cover does. I don't think he's the rough guy that the front cover portrays him to be. Albeit he admits to having quite a temper, but I couldn't figure some things out about the story. Like once he realized as an adult that he has dyslexia, why didn't he get help? ...Why didn't he ever realize that the reason the counselor was talking to him about the things he did wrong in his marriage counseling was that he probably did have issues he needed to work out? ...Why didn't he want to change? In this story, rather than finding encouragement and answers, I was just left with a lot of questions.
Please note that I received a complimentary copy of this book from Tyndale Publishing.