Reading can either put a smile on your face--and on your heart--or make you feel like you wish hadn't read the book. Sometimes that feeling is just a twinge, sometimes it's a lot more than that. I remember once hearing that without sadness, we wouldn't be able to feel happiness. Perhaps, it is the same with books. I've read many books that have made me cringe. So, when I read one that leaves me with a smile, it's a blessing.
When I began pondering books for reluctant readers recently, several friends suggested YWAM's Heroes series of books for kids. They have four series of books for children. I received a book from their Christian Heroes: Then and Now series and Heroes for Young Readers series as well as the curriculum guide and activity guide for these books. These are the books that I get to review today and the books that put a smile in my heart.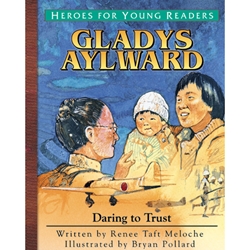 I read the Heroes for Young Readers biography of Gladys Aylward by Renee Taft Meloche and Christian Heroes: Then & Now biography of Janet & Geoff Benge of Gladys Aylward.
As soon as the books arrived, my kids were eager to open them up, so I sat down on the couch and opened up the younger book with them. They sat and listened to the whole book. I cried at the end. Afterwards, I opened up the activity guide and we did the character activity for Gladys Aylward. We started by laying down on the ground. I read the script and we acted it out as I read. My children loved it. I looked through the Activity Guide and I was surprised and pleased. With one activity, I had concerns with the beginning but as I read on, I began to understand it and I liked the lesson the activity taught. The activity guides for the young reader books each cover 4 books. There are books on heroes from American history and missionaries. On Google Books, you can see a preview of the book for young readers, but not the activity guide.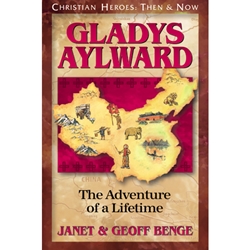 Later that afternoon, I opened up the older novel and read the first two chapters. I was immediately struck that this book was interesting and had great description, though it was very easy to read. The vocabulary is about a 5th or 6th grade reading level. I'd say it would be great for students in grades 4-8. Over the next week, I read the book and the farther I got into it, the more I wanted to read it. It drew me in. It is a biography that is written in story form. When I reached the end, I was glad I had the entire book--every page of it.
But, when I read a book, I am usually thinking about it as more than just a simple story. I want my children to read books that are worth reading. So, I ponder what message this book would tell kids--what will they take from it? What did I take from it? Interestingly, I'm reading a book about evangelical feminism right now which really made me ponder her actions as a woman. I came to several conclusions.
1) I need to focus on the strengths of Gladys Aylward and what she did.
2) George Santayana said "

Those who cannot remember the past are condemned to repeat it." What can we learn from Gladys Aylward and her life? Hopefully, the reader will be able to see the Chinese as people and with compassion after reading this book.
3) When we make decisions, I have come to believe that we should seek God in prayer, in His Word, and seek out godly counsel (Proverbs 15:22). Psalms is filled with David crying out to God in prayer. That is the one thing that isn't mentioned in this book and what I struggled with. In the story, Gladys isn't encouraged by anyone to go to China. If anything, she is discouraged. What I realized is that this story is told from the authors' perspective--it is not an autobiography. I don't know if there was anyone who encouraged her to go, but there could have been. If you or your children have questions about book, do more research! Find another biography and see if you can find an answer to what you're questioning.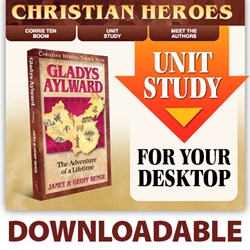 While reading the book, I perused the curriculum guide for that book. I was very impressed! I liked the comprehension questions for each chapter, the essay questions, creative writing topics, and activity suggestions. One thing that was interesting was when one of the essay questions suggested something that wasn't in the book. The question asked about dyslexia. It would explain a lot about her struggles in Bible school and I wish that the authors talked about it in the story, but they don't. They don't talk about it because it isn't certain, but I like how the question is written in the essay questions. They don't claim it is true, but instead encourage the student to examine how her life fits the profile of someone who has dyslexia and how it could affect her. On the curriculum guide, there is also information about the authors and the series of books. It is interesting and helpful to hear what their perspective is and how they've done their research.
My conclusion? I like the series. I would definitely recommend getting and using the curriculum guides with the novels. The activity guides also bring much more life and understanding to the younger books.
There may be topics you want to discuss with your children that are covered in the books. I would recommend that you read them too. I think you'll probably enjoy them. I did.
You could use them for multicultural studies, social studies, English, as Unit Studies, or as pa
rt of your Bible curriculum and discuss what it means to be a missionary. I do think it's also important to help your children understand that we can be missionaries write where we are and love the people in our communities. My plan is to read several of these books with my children when they are in grades 4-8 and contrast the lives of the missionaries with our own lives. As a culture, we have an idealized view of the past and expect there to be less suffering than there is. In the past, people expected life to be hard. It's reflected in their writings. These books don't idealize the past and will hopefully help our children that God didn't promise that life would be easy.
There is one last note that I want to make about these books. It is important not to see missionaries as saints. They were sinners too. They weren't perfect. God used them just as he uses all imperfect people. In the Bible, we see that over and over--God uses imperfect people. They spread the gospel as we are all called to do and they answered this command in a particular way.
If you are interested in getting any books from these series, you can see previews of them online at Google books. The best prices are on YWAM's website and they have specials this spring if you buy several books at once.
Please note that I received a complimentary copy of these materials from YWAM for review.