Though there are Life Application Study Bibles for the NLT, NIV, and KJV, the Life Application Bible Studies are specific to the NLT translation.
Over the past two years, I've posted several times about Bible translations.

It was this Bible study that challenged me to really examine what the differences in the NLT are and discuss them with the person I most trust when it comes to discussing translation--my husband.

He has wisdom about the Bible that I don't have and he has much better retention of information that he has learned than I do.

He's like my back up drive for the computer in my head.

I know that I've learned things, but often I can't find them in my head so then I go to him for the back up. =)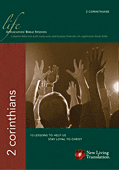 At the beginning of this study, there are several pages that first explain the New Living Translation.

Next, there are several pages that explain the Life Application Bible content and structure.

Then, comes the text from 2 Corinthians and then the Bible study.
If you haven't read the NLT before or the Life Application Bible, it would be really helpful to read these first few pages.

I need to be honest.

I have had some concerns in the past about both.

And after reading and discussing them, I still am not fully at peace about them, but I do feel a lot better about them.

I understand now that the NLT was translated using fully legitimate translation methods and that the Life Application Bible makes the Bible very accessible for people who have not read the Bible a lot, but I am still cautious.

I am cautious because as a culture, we are so tempted to want things spelled out for us, to have our ears tickled rather than rebuked, and for everything to be easy to understand.

I say this knowing these things about myself and my own heart.

I want to read books that are easy to read and which at the end of the day, I can enjoy without too much effort.

But, that isn't always the best thing for me.

Most often, actually, it's not.

But, let me get back to this study...
This study is a good one.

It is very practical and includes both practical questions to encourage you to reflect on how the Bible relates to you and your life and also practical footnotes to learn what the Bible says.

Since this study is written for the NLT, which is different than other translations, it is important that you answer the questions using the excerpted book from the Bible in the study.
For me, it is not what I would normally choose for a Bible study.

It is almost too practical for me.

There is a temptation, I think, when we focus so much on how God's Word applies to our own lives and what it means to us to lose sight of God and that the Bible is really about HIM and Not About US.

I remember several years ago discussing a story from the Bible with my husband and the point came up that what is included in the Bible is what God wants there.

The details that are included are the ones that are needed to point us to Him, rather than to point us to the people in the stories.
I asked my husband about all of these things I was thinking about this study and he brought up some very good points to me.

He pointed out that I've been reading the Bible and attending church for many years.

I've listened to many sermons and have attended Bible studies.

For someone who has just come to know the Lord, the NLT, the Life Application Study Bible, and this Bible study series is a great place to start!

He pointed this out to me and I think he's right.

The notes on the passages in the Bible are like mini sermon summaries.

They give you the meat you need in compact bites.
So, in the end, would I recommend this Bible study?

Yes.

It is a great Bible study for a new believer or for someone who desires a very conversational, easy to read Bible (the NLT) or Bible study.
Please note that I was given a complimentary copy of this book for review by Tyndale Publishing.