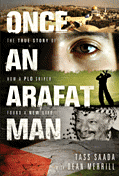 Today I finished reading Once an Arafat Man by Tass Saada with Dean Merrill. It is Tass' biography/autobiography of his life. He was born in Palestine and then forced to move with his family and live as a refugee. He joined the Fatah and fought under Yasser Arafat. This book is his story--of both his life and his faith.
Last week, we watched the movie, The Kingdom. It was a powerful and frightening movie. As I read the first part of this book, I put Tass's story in the context of what was in that movie to help me picture what he did and what life was like for him. The first half of the book is very easy to read, not too gory or bloody in its description. It isn't especially engaging writing, but the first half does convey the story of Tass's life well. The second half is really what makes this book worth reading. There are a lot of interesting things to think about in the second half. Pg. 196-200 were particularly powerful to me. On page 197, there is a quote near the bottom that I think is worth pondering...
"The pattern of finessing the truth, of saying one thing but doing another, is epidemic in Middle Eastern politics. It explains why progress is often so excruciatingly slow. It also illustrates the desperate need on all levels, from high government halls to the common street, to speak honestly and accurately about one's intentions."
I think that right now the same could often be said about politics in the U.S., but I think that is a whole other kettle of fish and I don't know that in the U.S. we finesse the truth quite the way it is culturally acceptable to do so in the Middle East.
I appreciated Saada's description of the Israeli-Palestinian conflict as well as what he believes are the reasons behind it. I think it would be good for every Christian to read this part of the book. I think it would give us all great deal of compassion for the Palestinians and understanding.
Last year, I read Jimmy Carter's second book about Palestine and Israel. It was very good (as was the first), but this book is different because it comes from an insider. Saada above all wants peace for all and truly wants to live out the Lord's command for us to Love One Another as God has loved us. This book is such a worthwhile read!
Please note... I was provided with this complimentary copy from Tyndale, but I would have read it on my own. If you want to understand the Israeli-Palestinian Conflict, read Jimmy Carter's book Palestine: Peace, not apartheid and this book. The two books are different, but I think they compliment each other.