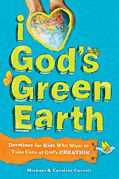 When I began thinking about who to approach this review, I thought I needed to address creation, evolution, and intelligent design. But, I've come to feel now that isn't the place for me to start.
Last year, we began a Bible study in our small group on the book of Genesis by Tim Keller. His Bible Studies, by the way, are my favorite by far of any studies I've ever done. I was looking forward to the study because I knew I'd been avoiding the discussion of creation and evolution and resolving what I felt about new earth and old earth theories. Much to my surprise, Tim Keller didn't address any of these things. Instead, he made the point that what we should be focusing is on what God did say in the Word--which is what really matters. Sometimes we get very caught up and distracted from what the Bible says by giving to much attention to trying to figure out what God doesn't state explicitly in His Word (ie. about creation). This study set my heart at ease and reminded me that there will be things that I don't understand and trust that I will not understand--because I am not God.
One thing I am convicted of, though, in regard to God's creation is that we are to take care of it. I am a recycler, a reuser, and a make-doer (definitely a word Mrs. Piggle-Wiggle might use) who loves the earth. I believe in creation, not evolution. But, I don't believe that we, as people, are supposed to abuse this world that we live in and take advantage of it. Subduing the earth doesn't mean to me that we should all drive Hummers and use as much energy as we want to. My husband and I desire to minimize our ecological footprint whenever possible. We want to take care of this earth by recycling and picking up trash in our neighborhood. I look forward with excitement next year when the kids will be old enough to go for walks and pick up the trash in our neighborhood. I want to model for them and teach them to take care of the place in which they live.
But, I suppose that's enough of my rambling! I hope it explains where I'm coming from and why I was drawn to this devotional. The book I'm reviewing today is called
i (heart) God's Green Earth by Michael and Caroline Carroll
. It is a new devotional published by Tyndale for kids 6-11 years old.
When I opened up this book, I loved the introduction. I resonated with what the authors shared. It was right up my alley! I was excited to read this book.
The first time I read it when it arrived I was only excited about the introduction. I had read things out of order, picking and choosing random entries. That was a bad choice on my part.
I had my mind made up after that first reading, but couldn't articulate what I didn't like it. So, I just picked the book up and started at the beginning instead. I started to see past the very minor things I didn't like and see how this devotional does explain exactly what I want my kids to know and think about taking care of this world! The devotional entries build upon each other from the beginning to explain why we should take care of the earth (and they even explain what an ecological footprint is in the first 10 entries). There are 90 devotional entries in all.
For each entry, there is a Bible verse, devotional entry, connection to the verse, jokes or interesting facts and something you can do to care for the earth. I like all of the parts except for the something you can do for the earth. There are 2 things I wish the authors had done with this part. 1) I wish they had simply used the word "pray" rather than "relay your thoughts" about talking to God. I understand they were staying with an R theme, but for some reason, it just rubbed me the wrong way. I suppose it's because it reminds me of the way a lot of "new age" cults express the idea of talking to God. When I read it to my children, I will use the word Pray instead. 2) I wish there had been more practical, physical suggestions of things that my kids could to do to take care of the earth. Outside of those two minor issues, I enjoyed all the other parts of the daily devotions. The jokes were fun and silly and I like the facts. They are opportunities to talk about the world we live in and ignite their curiosity about God's creation.
I am impressed with this book and I do really like it. I've read several devotions and a lot of them are just okay--good, but if you're only buying 1 or 2, they aren't what I'd recommend. This devotional addresses a very special issue. As a homeschooling parent, I think it's perfect for integrating into your science curriculum when you teach your children grades 2-6 about caring for the earth. I look forward to doing that next year! My daughter at 6 years old is still a little young for it. I think that it would be best for 6-11 year olds (6 year olds if they have older siblings).
Please note that I was given a complimentary copy of this book for review.